Contents Cleaning &
Textile Restoration
From mold to smoke, fire to flood, Blue Kangaroo Packoutz of Charleston is here to provide you with world-class contents restoration and cleaning. We offer residents of Charleston, North Charleston, Mount Pleasant, and surrounding areas comprehensive, cost-effective cleaning and restoration.
Need Help with Textile restoration?
Textile restoration is a meticulous and transformative process that breathes new life into cherished fabrics and textiles, and Blue Kangaroo Packoutz  of Charleston stands at the forefront of this industry with their top-tier textile cleaning services. Whether it's heirloom quilts, vintage tapestries, or delicate wedding gowns, their experts possess the knowledge and state-of-the-art equipment to rejuvenate these cherished items.
The textile restoration process at Blue Kangaroo Packoutz of Charleston begins with a thorough assessment, identifying the extent of damage and fabric composition. This attention to detail ensures a tailored approach for each project. Utilizing advanced cleaning techniques, they delicately remove stains, odors, and pollutants that may have marred the textile's appearance and integrity. Their skilled artisans employ eco-friendly and safe restoration methods, preserving the original character and quality of the fabric.
The commitment to excellence doesn't stop there; Blue Kangaroo Packoutz of Charleston offers meticulous post-cleaning inspections to guarantee the utmost satisfaction. With a dedication to preserving both sentimental and historical value, their textile restoration services are unparalleled.
If you're in need of high-level textile cleaning and restoration, don't hesitate to reach out to Blue Kangaroo Packoutz of Charleston today. Trust their experts to bring your cherished textiles back to their former glory, ensuring they can be treasured for generations to come. Contact us now to schedule your consultation and experience the difference in textile restoration that only Blue Kangaroo Packoutz of Charleston can provide. Your textiles deserve nothing less than the best.
Contents Cleaning Services
Backed by years of experience, cutting-edge tools and technology, and a strong commitment to detail, Blue Kangaroo Packoutz of Charleston has what it takes to revitalize your damaged items.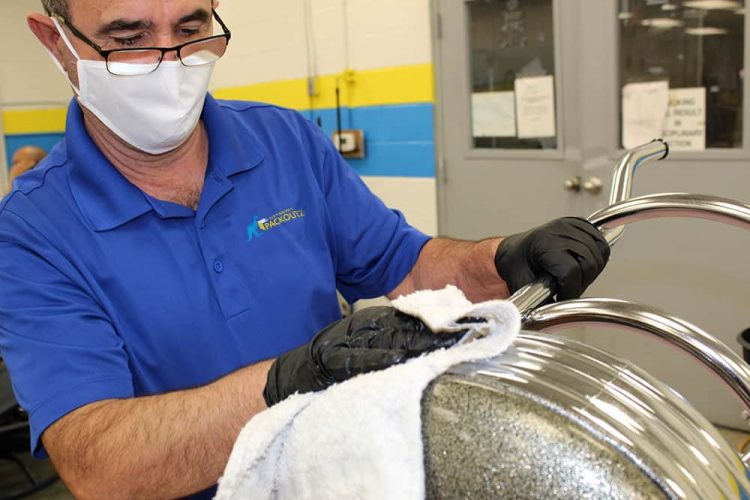 Contents Restoration Services
Whether it's documents, art, upholstery, or antiques, our Blue Kangaroo Packoutz team knows how to care for just about any item. Our trusted professionals are here to serve the residents of Charleston, North Charleston, and Mount Pleasant. Contact us today.
For more information on what Blue Kangaroo Packoutz has to offer, visit our main services page.
The Blue Kangaroo Packoutz Process
After disasters strike, it's natural to worry about your personal belongings. That's why we've created an approach that gives you peace of mind every step of the way. Our goal is to make the restoration process easier for you until the day you move back home.
Initial Assessment

A representative from our team will assess the items to determine if they can be salvaged and restored.

Packout & Inventory

Salvageable items are carefully packed onto our trucks and entered into our digital tracking system.

Processing

Items are cared for by our cleaning and restoration specialists. We check, clean, repair, restore, and revitalize.

Storage

Throughout the entire restoration process, your items are safe and secure in our climate-controlled warehouse.

Packback

We'll deliver and carefully unpackage your boxed items and place them in their originating location.
Success
Stories
WHAT MAKES US DIFFERENT THAN YOUR Average Restoration Company?
Service TITLE

Lorem ipsum dolor sit amet, consetetur sadipscing elitr, sed diam nonumy eirmod tempor invidunt ut labore et dolore magna aliquyam erat, sed diam voluptua…

Service TITLE

Lorem ipsum dolor sit amet, consetetur sadipscing elitr, sed diam nonumy eirmod tempor invidunt ut labore et dolore magna aliquyam erat, sed diam voluptua…

Service TITLE

Lorem ipsum dolor sit amet, consetetur sadipscing elitr, sed diam nonumy eirmod tempor invidunt ut labore et dolore magna aliquyam erat, sed diam voluptua…

Service TITLE

Lorem ipsum dolor sit amet, consetetur sadipscing elitr, sed diam nonumy eirmod tempor invidunt ut labore et dolore magna aliquyam erat, sed diam voluptua…

Service TITLE

Lorem ipsum dolor sit amet, consetetur sadipscing elitr, sed diam nonumy eirmod tempor invidunt ut labore et dolore magna aliquyam erat, sed diam voluptua…

Service TITLE

Lorem ipsum dolor sit amet, consetetur sadipscing elitr, sed diam nonumy eirmod tempor invidunt ut labore et dolore magna aliquyam erat, sed diam voluptua…