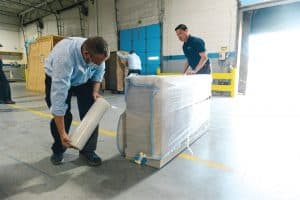 Restoration companies across the U.S. regularly respond to claims that require contents restoration services. Larger restoration contractors may have a division within their company that specializes in contents services. However, contractors that try to handle this type of work without the proper training or resources in place often get their company "stuck" in the property restoration and claims process.
In this article, Training Development Leader and Regional Business Coach, David Gavilanes, discusses how to properly prepare for a contents restoration claim and why reaching out to a subcontractor that specializes in contents restoration services is the best call to make in order to keep your contents safe and your customers happy.
Click here to view the full article featured in Cleanfax magazine.
Blue Kangaroo Packoutz is proud to be providing clients with peace of mind through their compassionate and high-quality approach to the contents restoration process. To request a service, click here or call the 24/7 Emergency Hotline at 866-252-6427.